Having been officially been a DC dweller for just over one month now, my new city has already far surpassed my expectations, but even before heading north, I knew DC would be great for our family of two. It also helps that I am fortunate to have a supportive team at Schellman & Company that has allowed me to continue working from a different location, which made the transition as easy as it could be.
Of all the amazing things I knew DC had to offer, new opportunities and unforgettable experiences were paramount. And that's just what my first networking event in my new city brought me. About a month ago, I was introduced to the Executive Women's Forum (EWF), which is the largest organization serving the "most prominent and influential female executives in the information security, risk management and privacy industries," and they are dedicated to supporting and encouraging women in leadership positions across the information security industry. As of today, women only make up about 11% of the workforce, and the EWF is working on closing both the gender and pay gap within the industry as much as possible. Their work is especially important right now, as studies and statistics project an eventual employment deficit of about 1.8 million jobs in the cyber security industry by 2020—a problem they are hoping to curb as much as possible within the scope of their comprehensive mission. I was invited to EWF's event, Cybersecurity Women on Capitol Hill, on May 9th, which was to take place at The Capitol Building. As it happened, it would serve as a great opportunity to connect more personally with those working women in the city and get a closer look at the work being done.
The event began with Joyce Brocaglia, the founder and CEO of EWF, welcoming the group and sharing a bit more about the organization and its goals. One interesting aspect of EWF is their Lift Program, a mentorship program that encourages women to continue working in the IT industry in any capacity that they can. The program shines light on the multi-faceted nature of the industry, and asserts that there are many roles women can play in both technical and non-technical sides.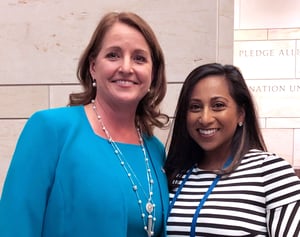 I'd chosen to sit as close to the podium as I could get for the event, which coincidentally put me next to Suzette Kent, the federal CIO of the United States. She represents a prime example of a woman that had risen to the most influential parts of our industry, and after lunch and conversation, it was her turn to take the podium. She stressed the fact that data security and privacy is a bipartisan issue, and that no one, on either side of the aisle, should support our personal data being made readily available or vulnerable in any way. As technology continues to evolve, privacy laws should follow suit, and one can only hope that our lawmakers will heed Ms. Kent's words.
Another major takeaway I had was the need for cyber education in schools. Generations today are growing up in a much more connected world than ever before, so an understanding of cyber threats and the importance of privacy is something that should be communicated in schools and supported in homes. Technology has changed the way students are taught, so why should they also not be instructed on the susceptibility of that tech? Given how the discussion regarding the privacy of personal data has frequented the headlines, our children should be made aware of such threats to their information, which is vulnerable now and will be in their future as well.
Overall, my day at the Cyber Security Women on Capitol Hill event was one that I will surely never forget. Discussing real concerns and real strategies with those Congressional leaders who actually make and implement laws to guide the industry was an incredibly eye opening and personal experience. Not only that, but being around women who support other women, as well as the greater good was truly inspiring. I am truly grateful to EWF and Schellman for this experience, and for motivating me to think outside of my comfort zone and to acknowledge my role in the IT industry.