Originally published by Consulting Magazine
We've seen the future of consulting… and it looks really good.
Everyone knows the firm with the best talent wins. And in this issue, we highlight the best young talent the profession has to offer. And from where we sit, this next generation of consultants is poised to do many great things… and typical to their generation's style, they'll probably do it all on their own terms.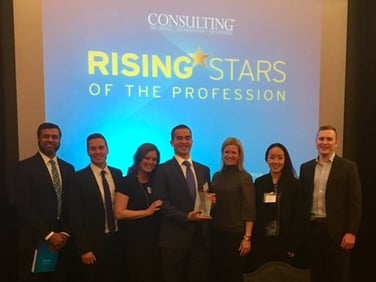 Once again this year, we honor the Rising Stars of the Profession—35 consultants under the age of 35.
Since joining Schellman in 2013, Danny Manimbo has been dedicated to building both the SOC and ISO practices at the firm. The very next year, he moved from Schellman's home state of Florida to Denver to focus on developing the firm's growing West Coast practice.
Manimbo says the fact that no one project or client is the same is what he enjoys most about consulting.
"The technology consulting industry is constantly evolving," he says. "Every day is a new challenge and the opportunity to learn something new and better yourself as a professional. It certainly beats a nine-to-five desk job, performing the same tasks on the day-in, day-out basis."
-Danny Manimbo
Currently a manager at Schellman, Manimbo's primary focus is on the client-facing side of the business, but he says he also really enjoys developing and mentoring the senior associate staff-base any chance he gets.
Too often, people dislike their careers and discovering a career and a firm that he's passionate about is one of his greatest accomplishments. "Without being passionate about what you do, I think it's almost impossible to be successful, so I'm just excited to have been given a great opportunity by Schellman that allows me to pursue a career in the consulting industry, and challenges me every day in something I truly enjoy doing," he says.
His entire career, Manimbo says, he's been really fortunate to have great role models as bosses. "I've tried to take professional, personal, and leadership qualities from each of them and apply those to my approach now in my leadership role as a manager at Schellman," he says.
"I think having the opportunity to work under people who you truly respect and can learn from really sets you up for success as you rise up the ranks in your own career."
About the Author

More Content by Schellman & Company