Every year, millions of people donate to nonprofit organizations with the hope of making a positive impact in their local and greater communities. These statistics speak for themselves:
Given this data, the majority of you reading this probably donate in one way or another. I want to say thank you for that—this world is a better place because you are in it. It's no small thing to give, no matter how much, because such sacrifice brings hope to those in need that have been forgotten. Still, one question that I find myself asking when donating is, "am I doing this right?"
While there is no "wrong" way to give to charity per se, the fact is this: there are 1.5 million nonprofit organizations in the United States. So while there is a real chance that I am donating in the MOST optimal way, given the sheer amount of different charitable organizations in this country, I may also be donating to one that does not really need my money, and there may be up to 1,499,999 organizations that need my donation MORE than the charity currently getting it.
So, here's the ringer question – how good am I at determining my money's impact? How good are you?
Quantifying Benefit
One organization—the Copenhagen Consensus Center (CCC)—took it upon themselves to ask that very question. A nonprofit out of Denmark, they objectively studied the impact of all donations worldwide with the aim to advise philanthropists on how to most effectively target their money. Their approach, although somewhat controversial, sought to create a quantitative metric that measures the global benefits every dollar makes when invested in a philanthropic cause. For instance, in looking at donations made to Basic Emergency Obstetric & Newborn Care (BEmONC) sector, the CCC found that $71 dollars-worth of benefits is obtained for every $1 donated. Using a metric more typically seen in corporate capital budgeting, the CCC used a Benefit Cost Ratio (BCR) to quantify the related donation impact, as seen below.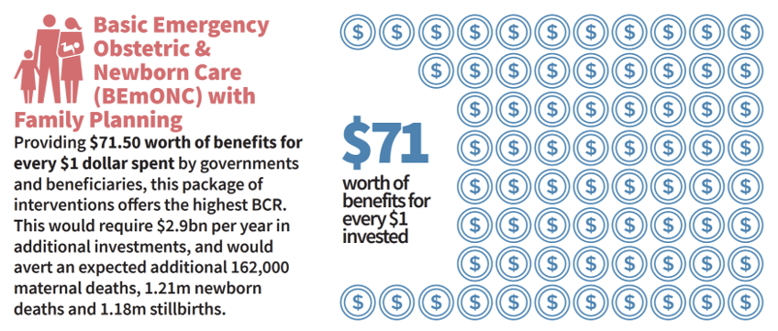 Overall, the CCC's aim was to help givers across the globe target causes that would maximize advantages to the relevant causes, and as such, they also released a guide to giving. The full listing can be found at the source, but some of the areas that stand to benefit the most from charitable investments include:
Micronutrient fortification and supplementation – especially for children
Expanded immunization coverage for children
Providing support for women's reproductive role
Malaria prevention and treatment
Lowering the price of schooling
Of course, some things did not make the cut, and that is the point. With a finite amount of donations, prioritization becomes critically important. Although imperfect and somewhat harsh, the CCC's return on investment (ROI) approach to donations can help us to think about the impact of our money and if we could be donating it more wisely in order to help as much as possible.
Saving Lives
But aside from financial gain, another, more altruistic way to look at donation impact is through the lens of lives saved, as Population Services International (PSI) did. A nonprofit based out of Washington, D.C., they focus on issues like child survival, HIV and reproductive health. On their website, they state that $38.96 is all it takes to give a mother and her child a year of healthy life, meaning if I donated $38.96 myself, I would likely save someone's life—either mother or child—for one year. While that may not be exactly accurate, it is one of the closest ways I could find in terms of quantifying the cost of saving someone's life.
To take it further, using this generous rationale, the rough cost of a life could be calculated using the following equation:
$38.96 – One year of life saved
72.6 years – Average life expectancy in the world
Therefore, $38.96 x 72.6 = $2,828.50, the rough total cost to save a life
$1,414.25 – That amount halved, which would be the total cost to an individual who works for an organization with a company match program
If paid bi-weekly, that is $54 a paycheck
Seeing it all broken down thusly presents a more definitive picture of what makes a difference (albeit through a very specific perspective). And of course, you do not have to stop there—using similar metrics, you could quantify your giving potential and realize it is possible to save hundreds of lives over the span of your career.
So while every donation does count for at least a little bit of sorely needed hope and help, there are definitely different ways available to curate your donation habits so as to ensure what you give actually reaches and affects those most in need, should you be interested in exploring that. While we tend to think of the ROI in our business interests—like our stock portfolio or cryptocurrencies—we should also perhaps implement the same approach to our philanthropic strategies. By shifting our paradigm and prioritizing our impact, the benefits can truly be realized by the collective. As they say, work (and give) smarter, not harder.