Back in the spring of 2009, I raised my right hand and swore to support and defend the Constitution of the United States against all enemies, foreign and domestic. At the time, I knew what I was signing up for, just as I knew then that all the challenges I had faced in the past would not compare to those ahead of me. What I did not know is that one of those challenges would actually come after my service and manifest itself throughout my transition back to the civilian workforce.
The End of the Beginning – A New Start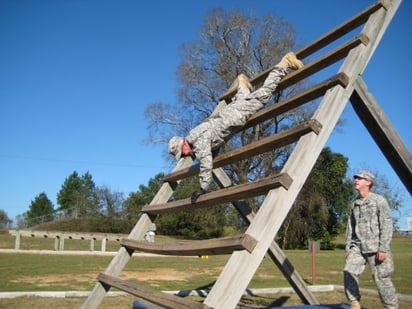 In December of 2015, the light was shining bright at the end of my tunnel. While I cherished every moment of my time in the Army, it was always the plan to serve six and half years. Especially since my wife and I had a baby—or as I like to call her, a superheroine—on the way, sticking to that plan made the best sense for our family.
As I neared completion of the Army Transition Assistance Program and "Cohort 1" of the Fort Hood Hiring Our Heroes initiative, all my important boxes were checked: my resumé was proofed, mock interviews were done, and I had training in salary negotiation and networking, as well as a professional development plan. I felt ready and amped for the next chapter of my story.
But my situation came with some caveats. Because my wife remained a service member, I couldn't just pack up and accept a job anywhere. Even still, my confidence remained strong. I had my experience, leadership skills, and I felt that I met all, if not most, of all the other sought after qualifications on the countless 'we hire Veterans' pamphlets I'd acquired throughout the transition process—all in all, I knew I would make a great asset to my next employer.
Unfortunately, my spirits would take a major gut punch a few months later. Though breaking into the tech space was my goal, when it came to the employment transition programs actually available to me, the opportunities weren't nearly as plentiful as in other lines of business. Frankly, I kept receiving what I dubbed as 'But Sandwiches' from the places I submitted applications—i.e., "Mr. Baca, your resumé is impressive, BUT you don't have enough of the right type of experience." One hiring manager even told me that my interview was fantastic and that she couldn't think of anything I could have done better, BUT… well, we know how that conversation ended.
A successful transition requires a complete shift in mindset and adaptability—the life you lead swings hard from one end of the culture spectrum to the other, and there is nothing quite like the experience of military life.
So rather than starting my climb up the civilian sector leadership ladder, I found myself navigating the titles of Veteran, stay-at home dad, male military spouse, and unemployed—not at all how I'd anticipated my transition going. Additionally, I never anticipated how being a Veteran could be a double-edged sword when it came to job hunting—something I'd started to grasp the more I applied for work. While some hiring specialists clearly considered Veterans as the best examples of commitment and good work ethic, others seemed to equate Veteran status to an HR risk—i.e., someone that was abrasive, hard to manage, and an incident away from some sort of outburst.
Serving as a Military Intelligence Officer in the United States Army gave me a sense of purpose. I loved my job, and I would be lying if I said donning the uniform alongside the infantry and tankers I supported didn't take my already confident demeanor to the next level. But there I was, six months removed from service, and for the first time in my life I was:
Flirting with depression
Questioning my value
Asking myself if I could only excel in a military setting
Considering any job regardless of career prospects
The uncertainty, doubt, and the pressure to not let my family down triggered some familiar feelings—though I'd become accustomed to similar physical training in the military, this transition process felt like being thrown onto another kind of obstacle course—an invisible one that I had to fight through mentally. I couldn't necessarily see all the potential hurdles, but they kept cropping up, and it was tough slogging.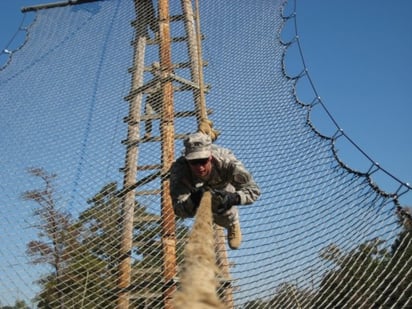 Lucky for me, my support system was strong, and my persistence and patience eventually won out. Not only did I find a job in my desired industry of tech, I am now employed by a company that consistently demonstrates strong support to Veterans, among other diverse groups. Through their initiatives like BRAVO, Schellman ensures the positive representation of the military community within the company while making sure our Veterans feel the support they need after leaving their military service.
And while I may have now conquered that Invisible Obstacle Course as part of my transition to civilian life, I know that I was lucky. Many Veterans face these same challenges alone—with no support system or an understanding civilian employer, whether it be by choice or circumstance. Having now gone through it myself, I can attest that the shift from military life to that of a civilian is drastic, and it is likely more difficult if one is alone. A successful transition requires a complete shift in mindset and adaptability—the life you lead swings hard from one end of the culture spectrum to the other, and there is nothing quite like the experience of military life. For example:
The utmost diligence is drilled into service members from the day they arrive at basic training.
From rigid schedules, standards for how they present themselves, to the appropriate responses to commands, service members are accustomed to highly structured environments.
The military community goes through a lot together, and as such, service members develop close bonds that sees peers become "battle buddies."
For all these reasons and more, it is a completely singular experience. Not only are civilian standards for diligence at work or at home an adjustment, but because service members are all part of something that's bigger than themselves, the connections they hold between peers, friends, and leadership are bound by a very different dynamic. Coupled with the culture shock that is the civilian world, leaving behind such camaraderie in the military is difficult and can often be lonely, as it's very different trying to establish relationships with people that cannot connect with military experiences.
Veterans by the Numbers
And while it's true that the transition process and programs have significantly improved as Veteran's programs and partnerships have grown more robust and diversified, the numbers illustrate there is more work to be done, especially where employment and mental health are concerned:
581K

-

According to the U.S. Department of Labor, over 581,000 Veterans were unemployed in 2020. Another one million service members are anticipated to separate from the armed forces over the next 5 years.
64% of Veterans experience difficulty in transitioning.
69% of Veterans say finding a job is their biggest challenge.
21%

-

The Veteran unemployment rate reaches 21% in some markets.
Call to Action
So, what exactly is this work we can do? How can we all help ease this enormous shift for Veterans? The complexity of this challenge actually extends beyond transition programs and mental health to include other factors that also affect Veterans during this important time—factors such as impacted family of service members or the effects of possible service-related, physical injuries. All this means is that there are even more ways we can help, whether it's volunteering as a mentor, leveraging our partnerships to create opportunities, helping military family members, visiting a wounded warrior in the hospital, or donating to organizations that support such causes—all of it could have a positive impact on a service member's transition journey.
As Veterans traverse their own Invisible Obstacle Courses—mental challenges tailored to the experiences they face alone or with support—it's important to recognize these opportunities we have to help those who have served become successful once again.
Below are a few organizations that are always looking for people to join the fight, the majority of whom are just looking for a few hours of your time each year. This Memorial Day, what better way is there to honor Veterans than to help the current generation with their transition to the civilian life?
Employment assistance is the #1 requested service from transitioning military members, and Hire Heroes USA provides that service to thousands each year. Through personalized service and support, Hire Heroes USA helps Veterans and military spouses get hired while helping companies hire and retain them. Hire Heroes USA is constantly looking for additional volunteers to provide job placement assistance to Veterans and their families. Join the Schellman BRAVO team in their volunteer efforts to assist Hire Heroes USA with their cause.
The objective of The COMMIT Foundation is to connect service members and Veterans to a professional network that encourages them to widen their apertures and translate their cultivated professional skills to a meaningful career in the civilian sector. Their programs uniquely expose service members and Veterans to opportunities they may never seek out due to a lack of information or confidence.
Give An Hour works to match military and Veterans struggling with mental health and well-being with volunteer health professionals that can help them recover. The nonprofit has provided 210,000 hours of service through over 858 active volunteers and 390 partner organizations.
TAPS (Tragedy Assistance Program for Survivors)
TAPS provides comfort, care, and resources to all those grieving the death of a military loved one. Since 1994, TAPS has provided comfort and hope 24/7 through a national peer support network and connection to grief resources—all at no cost to surviving families and loved ones.
The Foundation 4 Heroes is a 501c.3 nonprofit organization that has had the opportunity to visit thousands of children and Veterans over the years. Traveling to many community and states, these superhero volunteers' mission is to bring gifts, inspiration and smiles to patients of all ages in hospitals and find ways to honor and thank Veterans for their courage, service and sacrifice.
About the Author

More Content by David Baca